Hey dolls how's your 2013 so far? I've been very busy this holiday season cause of different occations. I think I gained a lot of weight, which is not a good thing. I'm back to work again and every morning i'm struggling to lift my lazy ass off the bed. But i still think 2013 is awesome. I'll be moving to Australia in a month and i'm already excited. Mixed emotions actually but i'm on the possitive side so i'm hoping for the best. New year, new country, new life. Game on.
Speaking of New year, it's now the perfect time of the year to get a make-over. Here are some simple tips to get you started:
1. Eat Healthy

- I know this is cliche but this is probably the best advice you can get from someone. So yeah, better eat your greens and drop that bag of ass fattening junk.
2. Get a closet upgrade

- or turn it 360 degrees? If you're used to wearing those cutesy. lacey, floraly (this isn't even a word no? lol) and colorful outfits why not try something different. Something mature maybe? Play with gold, beige and black and if you like it stuff your closet with pieces that flatters you. Or vice versa, get your hands on those peplum with lace sleeves thar easily korean-fy you. Either way a little difference in your ensemble can go a long way.
3. Wear heels

- Coco Chanel once said "A woman with good shoes is never ugly". Amen to this. It's not because people just stare at your feet the whole time, silly. It's because good shoes gives you confidence and confidence makes you feel beautiful and if you're feeling beautiful it will show. And you gotta agree with me that most of the time good shoes are 4 to 5 inch elevated. ;))
4. Dye your hair

- Be blonde? or brunette or any color you like. Don't be afraid to go several shades lighter or darker. Be who you want you to be. That btw is my mantra for 2013 beause honestly im also a scaredy cat when it comes to changing my hair color. I've been wanting to be blonde for the longest time. And i'll try to grow some balls and be blond this year. How about let's change together?
5. Makeup -

Use makeup once in a while you will be surprised how much it can do to make you look awesomely changed. I know you are all naturally beautiful. But it wouldn't hurt if you look like this today: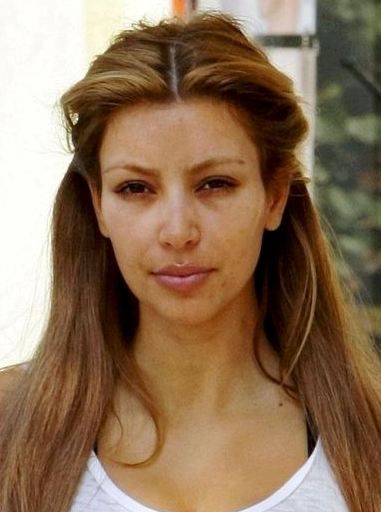 and like this the next day right?
p/s: Blessed New Year to all of you! <3